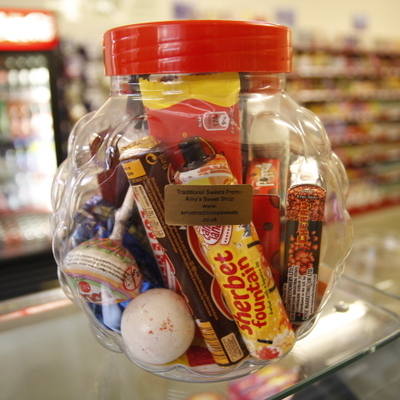 Retro Sweet Jar
All your retro favourites in one jar.
Our take on a retro jar, it contains many sweets that you'll undoubtedly remember from your childhood. These jars also make a great gift. Unlike some places you will find we have included a full £10.00 of sweets, we do NOT believe in charging you for the jar they are packed in.
The jar contains :-
Barratts Bassetti Sticks,
Barratts Catherine Wheel,
Milk Chews,
Sherbet Fountain,
Weirds, (aka Nerds)
Fizz Wizz Popping Candy,
Double Dip,
Dip Dab,
Mega Double Lolly,
Medium Gobstopper,
Tubble Gum,
Poppets, *various flavours
Walnut Whip,
Love Hearts,
Parma Violets,
Fizzers,
Rolos,
Curly Wurly,
Caramac,
Wham Bar,
Fry's Cream Bar, *various flavours
Finger of Fudge,
Sherbet Bottles
Jawbreaker, *various flavours
In the event that an item is out of stock we will substitute another retro product of th same or greater value.
*various flavours - there are several different flavours stocked for this item, one random flavour will be selected for your jar.
Due to the size and shape and weight of this item please select First Class Post during checkout, the item will be delivered using our contracted courier service.