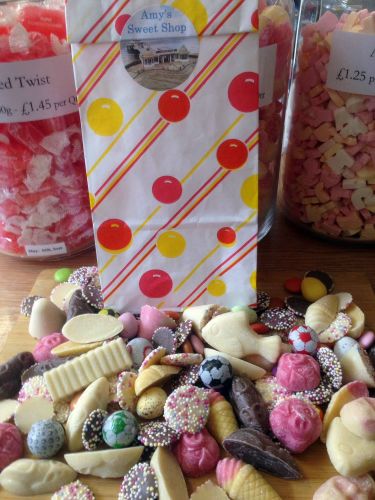 Chocolate Pick n Mix - 400g
A selection of everyone's favourite chocolate sweets.
A 400g selection of our eterally popular Pick n Mix chocolates. Your mix will be a bespoke combination that may include* any or all of the following:-
White and milk chocolate jazzles, white and milk chocolate mice, ice cream cones, skulls, spinning tops, pink pigs, mini eggs, fish n chips, footballs & chocolate beans.
Allergens in the ingredients: milk, soya, sulphites, wheat, may also contain nuts and peanuts. We can provide allergen free mixes on request**, please message us with your requirements and we be happy to come up with a special mix for you.
*Other chocolate sweets may be included as availability allows,
**All our pick n mix chocolates contain milk and soya, sports balls and chocolate beans are wheat free.